Situated at the quieter, northern end of Lakeside, with views of the peaceful lake and magnificent Himalayan mountains, Machhapuchhre Guesthouse awaits your arrival in Lakeside, Pokhara, Nepal.

Whether you have recently arrived after a long journey from your own country or whether you have come overland by bus, you will enjoy relaxing in a comfortable room at the Machhapuchhre Guesthouse.

We have our own restaurant on the verandah of the upper floor with great views over the lake, where you may enjoy breakfast, lunch, tiffin, tea and dinner, if you wish, or else you may prefer to eat at one of the many restaurants in Lakeside.

We have hot showers in all rooms and some have a bath, too. Our rooms are all very clean and well maintained, but we still have budget priced rooms to suit all tastes.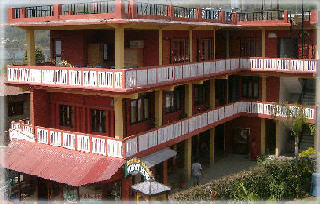 Machhapuchhre Guesthouse




Services that we can provide include the usual things like a 24-hour laundry service as well as meals and drinks. But we have many years experience in guiding and trekking - the guesthouse owner has been to Everest and Annapurna base camps many times as well as trekking the Annapurna Circuit literally hundreds of times. So advice on all the various treks, guides, porters and trekking permits can be obtained right from the guesthouse.

As well as this, kayaking and white water rafting can be arranged as well as visits to Chitwan National Park to perhaps ride on an elephant, hoping to see a tiger or Asian rhino.




Paragliding is also becoming a more and more popular sport in Pokhara and the surrounding areas. The Machhapuchhre Guesthouse has a unique relationship with Sunrise Paragliding, the oldest and most experienced paragliding company in Nepal, and the guesthouse is only a two minute walk from the Landing Zone and pick up point for jeep or taxis to Take Off.






This site best viewed with at least 1024x768 resolution.